Outfit Details:
Belt & rings – Target
Tignanello Wristlet – Gift from Grandmother
Nail Lacquer – OPI "I'm Not Really A Waitress" 
I love Christmas time. Mostly because I absolutely love giving gifts to people, & I love all of the baking involved. Don't get me wrong, I give gifts & bake goods all year long, but there's just something about Christmas that makes it more "magical", if you will. It's the excitement in the eye of the receiver because they have been excited about (hopefully) receiving a gift and cannot wait to know what it is. It's waking up to the smell of a freshly baked in kitchen, and seeing tasty treats on the counters just waiting for you to indulge in them. 
I chose this vintage dress as one of my possible Christmas dresses. The color, style & fit are just perfect. Plus, it's comfy & has pockets (!!). I have another dress that I may chose over this one, just for more comfort sake (and the fact that I will be with 5 dogs all day, and I don't want to get doggy fun on this dress). This outfit is part of the Bloggers Rock the Colors of Christmas event over on
Statements in Fashion
. When Collette asked me to participate, I was definitely excited. Nothing is more exciting to me than Christmas – well, except Halloween (can you see the 5 year old in there?).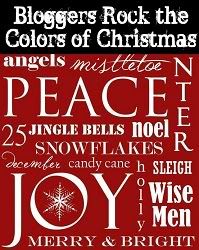 If you celebrate a holiday this time of year, what is your favorite thing about it?